Robert Pattinson is a Comic Book
Yep. First a doll, now a comic book. Bluewater Productions, the same company that made the Stephenie Meyer bio comic book, is at it again with a new comic book series called Fame. Robert Pattinson is featured in the second enstallment of this series, and E! has an
exclusive sneak peek
of the comic book: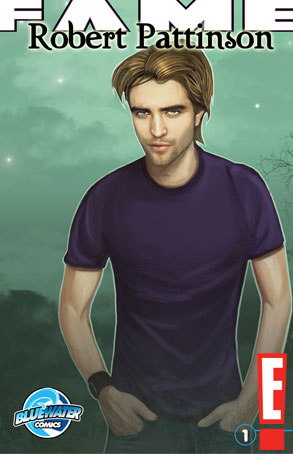 "The second installment of Bluewater Productions' new comic book line, Fame, features none other than your favorite sparkle vamp. The 32-pager doesn't hit comic book stores and Amazon.com until May, but E! News has the exclusive first look.

The issue, written by Kim Sherman and drawn by Nathaniel Ooten, with the cover created by Juan Mar Studios, delves into the star's music, modeling and, of course, those dreamy roles he played in the Harry Potter and Twilight movies."
Click here
to read the rest of E! Online's article.
Sincerely, Rosalie
1/30
---
---
---